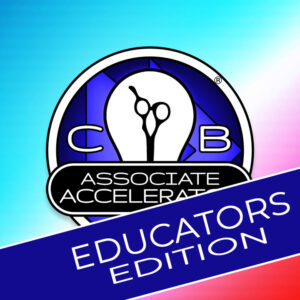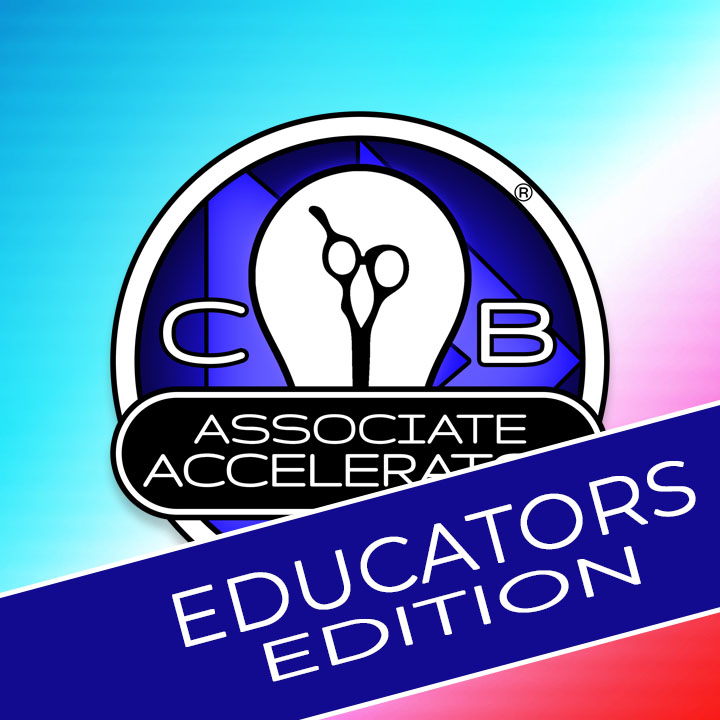 START HERE - Super Easy Onboarding

The hardest part of any training program is getting started, so let's make it simple. One day at a time.
This page mirrors the welcome emails sent to salons when they first sign up for the Accelerator. If you can't find it in your email, you can catch up here!
Day One: Congratulations!
Hi, I'm Chris Baran, the creator of the Salon Associate Accelerator.
I wanted to take just a moment to extend my congratulations to you. Getting started with the Accelerator is a Big Deal. Your associates are going to be meeting and exceeding your salon's standards in record time. So pop the champagne!
Over the next few days I'll be reaching out with info to help you get started, and within just a couple weeks, your associates will be client-ready with shampoo, color, and blow dry skills. Their support will quickly free up time for your senior stylists to book higher ticket services.
And no sooner are they covering the cost of their training, they slide right into learning incredibly versatile principle-based design and finishing skills they will use every day for the rest of their careers.
The days of having to shadow for six months before taking a client – are over.
If you haven't had a look at the program yet, no worries. That's why I sent this email. When you do, it might be daunting. I get it. Just remember – you already know this stuff. We've just got it arranged in a new and super efficient way.
Do you have to know the whole program before you get started? Nope. Not at all. I mean, no one's going to stop you, but all you really need is to stay one step ahead of your associates. Just be familiar with the next lesson so you're prepared – especially if they are ambitious.
After going through it once or twice, it's going to feel very natural. And you'll wonder why everybody isn't doing it this way.
Now, you may encounter some friction when you ask people to change the way they do things. And that's OK! New can be scary. I'm with you and we're going to turn those moments into wins. Stress will go down while your bottom line goes up!
We'll get to all that. And tomorrow we'll talk about getting you the help you need.
But for now, all I want you to do is take this moment to congratulate yourself. This is a big, exciting step. Your salon is about to become less stressful, better trained, and more profitable, and I can't wait to hear all about it.
– CB
Hello, I'm Chris Baran, same guy as yesterday. You probably recognize the beard with the very expensive color job.
If you didn't get a chance to watch yesterday's video, no worries. I'll sum it up right here: I'm super proud of you for taking this huge leap forward. And you're watching now, so congratulations on another win!
High fives aside, today is our official Day One, and we're keeping it simple. (because we always keep it simple).
If you're the owner and you've been doing all the training yourself, it's time to look at promoting someone to Education Manager (or Education Director, or Lead Educator – you pick the title). If you've already got someone in that role, that's awesome! It's freeing up your time, and in fact that's exactly why we developed the Accelerator – so you've got time to focus on building the business.
The Education Manager's role here is to keep things organized with your other educators – so that your associates keep moving forward and you're kept in the loop. Pretty much anyone who has used a calendar can do this.
I did say educators – plural. Protect yourself and your team from burnout and spread the responsibility around. If you're the owner doing it all, you can relate, right?
If it's got to be just you for now, it's ok. The program is designed to keep associates learning and practicing on their own, without an educator looking over their shoulder at every moment. So you'll be fine. In fact, using this program is going to make it easier to hand things over to an Education Manager soon enough.
There are some short videos on the first page of the Educators Edition that answer all your burning questions, so today's task is to invite an educator to the program. Super easy.
Head to TrainersPlaybook.com and login.
From your Profile Page go to Group Management and select your educator group from the dropdown menu.
Tap "Users" and select "Add one".
Enter your educator's first and last name and email. Ignore the password field – the system does that for you.
And tap "Add user".
That's it. Let your educators know to expect a Welcome Email with their login info. They'll have access to the Educator's Edition but not the Associates Edition, which is almost exactly the same without the Assessments and extra educator goodies. They can study as far ahead as they want, but they only really need to be prepared for each next step as it comes up. Keeping it simple, as always.
So that's today's task done. Chalk up another win!
If they have any questions, there's helpful info under the Help tab at the top of the screen, especially the Help Guide for Teams.
And there's also a whole community of Accelerator owners and educators called the Salon Associate Accelerator Community.
That's also where you'll see scheduling info for our onboarding and educator support calls.
As we go forward, stuff will come up. An educator might get pushback from a new hire who has always done something differently, or someone might feel they don't have the time. We resolve most of these things along the way with built-in segments we call "The Big Why", but help is always available. Don't hesitate to ask in the Facebook group. Chances are that someone has already solved any technical or team issue you might face, so take advantage.
As I always say, every problem is an opportunity in disguise.
In tomorrow's video we'll show you and your Education Manager how to invite your associates and get them prepped.
Thank you for watching, and celebrate those wins!
– CB
Day Three: Inviting Associates
Hi, it's me again, Chris Baran. And I know it's me because they checked my ID at the door and that's what it says.
So congratulations on taking a couple minutes to watch this video! I know it's not easy to find the time. Just remember this is an investment in the future of your salon that will pay off in real measurable dollars.
I remember as a kid I asked my dad to help me with a problem – a real puzzler, I said. Always one to encourage my independence, he answered my question with a question: "What's the easiest part of solving a puzzle?"
Me, the wunderkind who always made him proud, said, "I dunno."
He said, "The first piece and the last piece. The second piece is the hardest with so many to choose from. And every piece after that one gets easier."
I guess he just didn't want to help me with my math homework, but my point is you've already begun to solve this salon education puzzle, and I'm here to help you with the second and third pieces and so on.
Yesterday we took the first big step and invited your Education Manager to the program. If you missed it, it might be worth checking out. Could be a bit of a life changer.
Today's big step is to invite an associate. It's very similar to inviting an educator.
Go to Group Management and select your associates group from the dropdown menu.
Tap "Users" and select "Add one".
Enter your associate's first and last name and email. Ignore the password field – the system does that for you.
And tap "Add user".
Let your associates know to expect a Welcome Email with their login info, and that's it.
So there's another win for you! And that's really all you need to know to get started.
I know your associates will be eager to jump in, and it's absolutely fine if they explore ahead. The program is designed to support ambitious associates, and we've made it easy to manage multiple associates even if they're advancing at different speeds.
For questions about mannequin heads and practice time, check the videos on the first page of the Educators Edition. I know you will customize the details to suit your salon.
The next major step is the Initial Evaluation, and we'll get into that in more detail tomorrow. You're going to love how helpful it is in accurately identifying your associate's strengths and their opportunities for improvement.
In fact, tomorrow I'll make the case that everyone on your team should take it. And how to make them love the idea. And how it will increase their loyalty to you. And how it will make you more money.
Man, I'm really looking forward to tomorrow. See you then!
– CB
Day Four: The Initial Evaluation
Hi again. Thank you so much for being here. We're digging into it now and it speaks really well of you that you're staying committed to the onboarding process. Good things are ahead, I guarantee it.
Adding Group Leaders
Your educators will need to be able to see the progress and quiz scores of your associates. To do that, we make them Group Leaders for your associates group. It's simple:
In the Group Management panel, select your associates group.
Scroll down a bit and tap "Add group leader". Enter your educator's info. They will receive confirmation by email.
That's it! They now have access to the Group Management panel and the reports available there.
Note that Group Leaders will receive an email notification when associates pass a quiz. Very handy.
Here's where to find that button: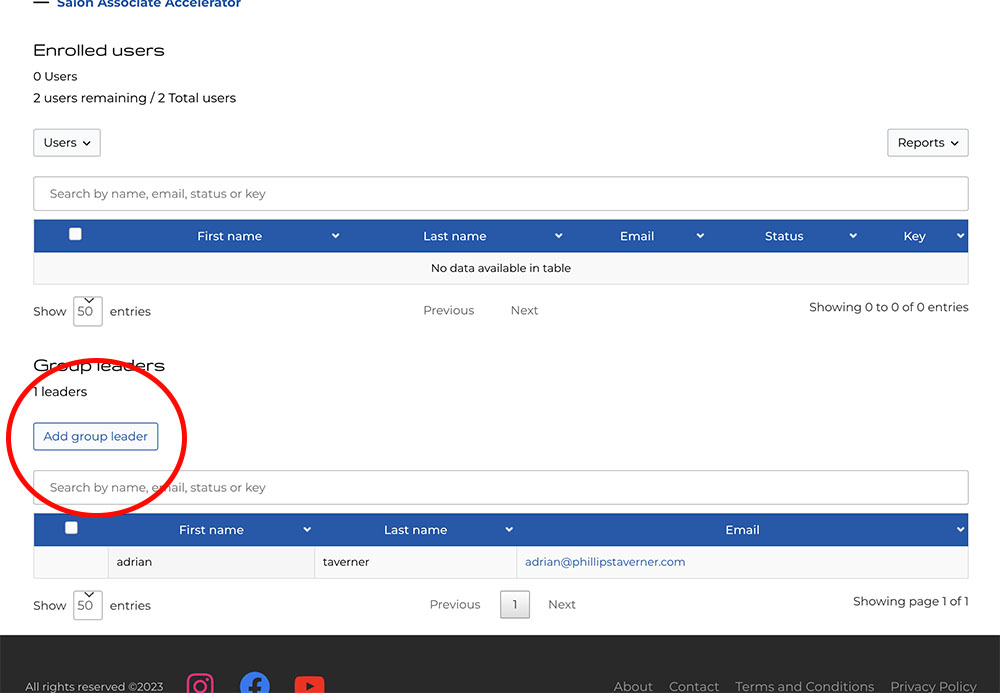 All set? Ok! Moving on…
So: The Initial Evaluation, and How it Changes Everything.
Not everybody can pull off dreadlocks. And there's no need to go through my old photo albums to prove it – I'll just tell you. Dreadlocks do not suit everyone.
It's the same with training – it doesn't make sense to train everybody the exact same way. Some people pick things up faster. Some people are already strong in a particular skill. It's way better for our bottom line if we can customize a training program for the individual to drill down where needed, and cut to the chase wherever possible.
So we need a clear picture of where the associate is at with all the essential skills. It's not a pass/fail situation so much as a snapshot. We just need to know what we have to work with.
There's more detail in the pages for the Assessment Process and the Initial Evaluation, but it basically goes like this:
Your educator goes over the Evaluation requirements a few days ahead of time with the associate. Download and print copies of the scoring and definitions sheets.
The associate recruits a suitable model for the techniques to be evaluated.
On the day, the Evaluation begins with time allowed for the associate to prepare a tidy workstation.
The guest arrives and we observe how the guest is welcomed. Here's a secret: skills can be taught, so hire for attitude. It's a big win if that guest is made to feel appreciated right off the bat and throughout.
And then the Evaluation continues, scoring various criteria on a scale of 1-5 through the cut, blow dry, finish, and color services.
By the time the client is sent on their way with our thanks, we have a complete snapshot of where the associate's skills are at, and we have a good idea of what they are like with clients.
Everybody's education plan is different, true, but by using the same Evaluation for everybody, we are able to streamline education for the whole salon, lining up associates with the right trainers – at the right time – to make the best use of everybody's time.
Bonus: You've probably already seen that this is also a great tool for evaluating potential hires.
So what about "How it Changes Everything"?
Well imagine if you had everyone in your salon take the Evaluation. You'd know who's strongest in cutting, who rules the directional blow dry, who paints a perfect retouch.
Now you've established the gold standard AND you know who to call on to teach these skills to the others who did not score so high.
With a bit of coaching and some training sessions, that knowledge starts to spread around.
And if you read between the lines there you can see how that might be a fun idea for everybody. The experts get recognition for their excellence and people who genuinely appreciate them get to learn from the best.
And (and) between you and me, by encouraging this culture of recognition and sharing, you'll have earned a new level of respect and loyalty from your team. Because they will feel like a team, and they have you to thank for it.
And (and and) with the whole team vibe going up along with their skill level, you can see how that translates to a more inviting, more rewarding experience for clients. So now they're telling their friends and booking more often, maybe even trying that premium treatment.
Can one test do all that? Well, not all by itself. But by using it as a tool to shine a light on the greatness in your team, YOU can do all that.
Ok! That's a lot to ponder, but I believe in you and I know this works. Tomorrow we'll look at getting the most out of the Jump Start so your associates are contributing to the bottom line in no time.
And hey, I mean it, congratulations for getting this far. Here's where it really starts to take off and I'm so glad you're here for it!
– CB
Hey, it's Chris. Thank you for joining me once more.
Yesterday we took a massive plunge into just how powerful a tool the Initial Evaluation can be. Today we jump into the Jump Start, which is going to get your associates boosting your bottom line unbelievably fast.
Before we take that leap, I want to acknowledge how far we've already come.
You signed up on faith that this program is going to meaningfully improve your business and, by extension, your lifestyle. I do not take that investment lightly.
You've invited educators and associates to come along on this great adventure. There's some risk there, and not just in time and energy which we all know is in short supply. There's nothing I want more than to make this pay off like fireworks for you.
And these evaluations and assessments and new ways of learning – it can all feel intimidating, if that's not too strong a word. Change is hard. Old habits are easy. (Just ask my wife Rita how long it took me to stop solving and just listen.)
I acknowledge all this to say that the fact you're still watching is kind of a big deal for me. I have worked my tail off (and my team's) to create something I know will pay off for you – soon and for always. If your commitment continues to match mine, we cannot lose.
So, let's jump into the Jump Start.
The number one complaint of salons is that associate training is a massive drain on resources – time and money. It takes way too long before associates are generating more than they are costing.
The number two complaint is that there is no decent associate training program out there. We know. We've looked.
The number three complaint is that "we train them and they leave."
So we decided to solve the first problem by solving the second, using tools that we know solve the third.
The Jump Start is by far the fastest system we've seen to get a new hire from costing you money to making you money.
It does that by focusing on a suite of less-technically demanding services that you can leverage to support your more senior stylists, so they have more time for bigger tickets. That's services like the Shampoo Experience, blow dry and flat iron techniques, and color refreshing and retouching.
After the Initial Evaluation, you'll know how much training your associate needs in each of these skills, and they won't take long.
And don't forget The Big Why: each time an associate passes another skill assessment, they can perform that skill with clients immediately. No year-long apprenticeship, no six months of shadowing before they can contribute. They can become valued members of the team right away, even while their training continues.
The speed of their growth is always a thrill and I hope you'll share their successes online. Use #associateaccelerator and #salonteamtraining so we can celebrate with you!
What's next, he says, looking around his desk. I'd like to pause the emails here for a few days while you dig in. I don't want to crowd you. We keep it simple.
But you're not alone if you want help. You can find details for the next live onboarding or educator support session in the Salon Associate Accelerator Community on Facebook – please take advantage. And you can reach us by email or from the contact page on TrainersPlaybook.com. We have got you covered!
In a few days I'll be back to check in, see how you're doing, and resolve any issues that may come up. And we'll talk about the next part of the program: Indispensable Design and Finishing. These are principle-based skills that, and I'm not exaggerating here, unlock the secrets to ALL hairstyles. True story. See you soon.
– CB