Relax. It only looks like a ton of information.
You got this.
The URL – This is how you got here. In case anyone asks.

Purchasing for you – Proceed directly to The Courses. No one except you will have access to your progress and quiz scores.
Check out the Quick Start Guide for more you-centric info. The rest of this user guide is all about managing your team.
Purchasing for your team – Track course progress and quiz results for everybody in one place. Learn together, win together! If you buy a course intended for someone else in the main store there's no way for them to access it except with your login credentials. So remember: if you're buying for your team, buy from the Team Courses store.
You will name your group during checkout, so please note that you can only buy for one group at a time. For example, first you get Superstar Educator for you and your education manager and name that group Best Bosses Ever Group, and then do a second transaction to get Design and Finishing for your stylists in your Legends of Style Group.
The Cart – In the shop, you decided what to put in your cart. Here is where you decide how many. This is where you select the number of users for your group. Later, after you checkout, you'll invite your users in the Group Management panel.
Note that the Salon Pack already comes with 20 seats. If you buy two Salon Packs, you'll have 40 seats.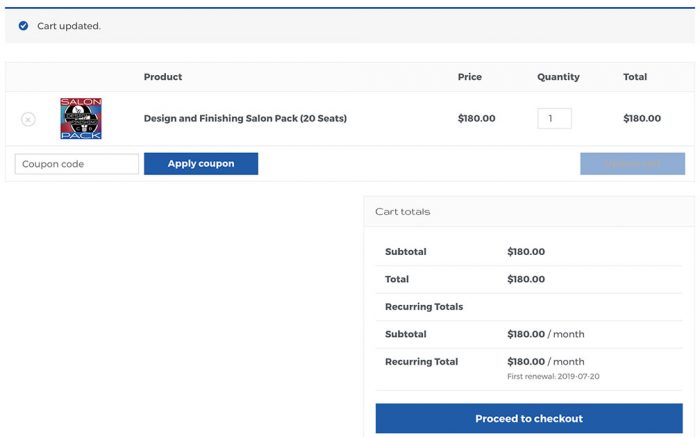 The Checkout – The information you enter here will be used to create your account if you're not already logged in. The email should be one that's not likely to change, since all receipts and notifications will go there.
Also, this is where you enter a group name. You cannot change this name later (even if you leave it blank!), so it's worth a think. For example, you might have a group for all your current stylists, and then create a separate group for any stylists you hire next year so you don't have to sift through so many users to check their progress. We suggest including the start date as a handy way to stay organized.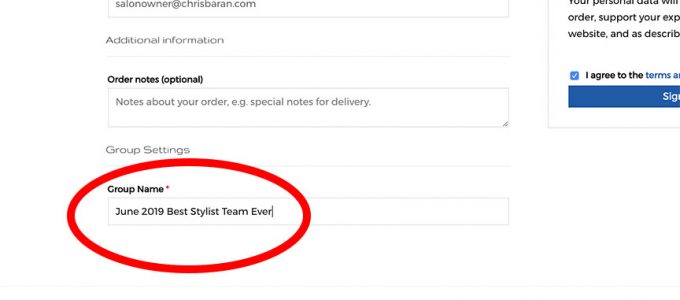 Login – After checkout (congratulations!), your account and transaction details will be emailed to you. Now is the perfect time to try out your new credentials.
Checking "Remember Me" sets a cookie on your device so you don't have to enter your email next time you visit. Unchecking the box will delete the cookie.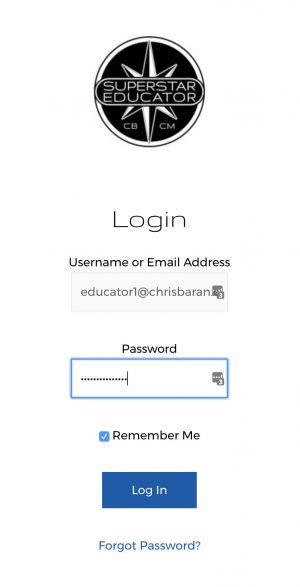 My Profile – After logging in you should be directed to your Profile page. It's got your purchase history, your account info, and links to your courses. It's everybody's home base.
And now there's a mysterious and alluring button that reads "Group Management" and it's just begging to be tapped. I'm feeling reckless. Let's do it.
The Group Management Panel – It might look confusing, but you'll get it. Promise.
Group. Once you have more than one group, this will become a drop-down selector.
Add User. This is where you fill those seats. I don't know why there's an option for adding one user. It works the same as multiple but takes longer. ¯\_(ツ)_/¯
Add Group Leader. As the account owner you're automatically listed here, but you can add more. A Group Leader can see everyone's scores and contact them through the Email Users button, but cannot access the course material unless you also give them a seat (or they already own it).
Progress – And there we have student1's progress in all her courses. These numbers only change when she taps the "Mark Complete" button in each segment, so she may be farther along but plans to review before committing. She's always been smart like that.
Quiz Selection – Here's the quiz history for student3.
Be sure to select the correct Course and Quiz.
Tap the tiny quiz page icon to drill down for more detail.
Quiz Drill Down – We can't tell you what they had for lunch, but we can tell you everything about their quiz.
We have had rare reports of an answer being recorded incorrectly (a learner answers A and the system records B). It's rare. We encourage our users to simply re-take the quiz while we work on this.
And there you have it. – That should get you on your way. If you're stuck, or you're dying to tell us nice things, use the contact form and we will get back to you. We are here for you!
FAQ - in case your brain isn't full yet.
We add answers here as questions come up. If you don't see what you need, shoot us your question in excruciating detail using the contact form.
Adding seats to a group
The short answer is that because of how credit card companies handle subscriptions (repeating payments), you cannot

add seats to an existing group. You have to create a new group.

You can add users to a Design & Finishing Salon Pack up to the maximum of 20. Your 21st user will need a new pack and a new group.
Removing users from a group
If a user has not yet started a group course, they can easily be removed by selecting their checkbox in the Group Management panel and tapping "Remove User".
Once a user begins a group course, they cannot be removed. This is because of rules governing repeating payments set by credit card processing companies. We are working with our developers to change this, since as a subscription-based service we feel that a salon should be able to remove a stylist if they leave (for example). For now, if you need to axe someone from the group, shoot us an email with your account details, the group name, and the name & email of the user you wish to remove, and we'll make it happen. Note that we cannot offer a refund once a user has started.